I Wanna Make More Money Online
It's been awhile since I joined another Paid To Click (PTC) site or any other money making opportunities. I'm only maintaining a handful as shown HERE. I think it's time to add some more to my list of everyday clicking.
So this weekend, I'm off browsing  new possible earning sites. I hope I could find something worthy to spend my spare time which is supposed to be a "time for ME".. If you have something worth looking into, just post it on my shoutbox and not in the comment area (if you don't want it to go directly to my spam box).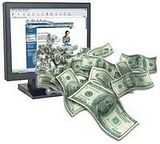 There are lots of money making sites out there but only a few are legit or should I say really paying their members. I actually had tons of  PTCs on my previous sites but when I migrated, I decided not to post it all. Besides some of them became scam and went kaput eventually. Now only sites that are still online for more than 6 months or even a year or more and still paying their members remained on my top list.
Guess this would take me more than a day or two to come up with new ones but what the heck, if I could earn some more, it would be worth it. I'm just here at home and I won't be spending a dime so why not add some more!
---
---