Online Giveaway
Why is it that some people love giving away free stuff online? Makes me wanna join them all *lol*. Well, there's no harm in trying. Most of the contests I see online have very simple rules. If I don't win, at least I tried. But then, who knows..I've got nothing to lose anyway..
Okay. Let's get on with the freebies.
I just discovered this contest while EC (Entrecard) dropping on one of my fave site, I Love-Hate America. I was just blog hopping and checking out her current posts when this photo caught my attention.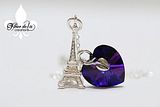 I love hearts and my fave color is purple (well, any shade of violet ). I can't take my eyes of it because it's really beautiful! I told myself I have to join her contest or I will forever regret it *lol*.
Anyway, the mechanics are simple. Head on to Fleur de lis Creation and read her entire post. Why? Because there are other awesome giveaways! The photo above is just one of the beautiful things you can win.
This contest is open to all bloggers wherever you are..
---
---