HKBuzz Payment
HKBuzz recently celebrated it's 1st year anniversary online last June. I didn't realize (until now) that I have also been with the site  from the very beginning. I'm glad that this site lasted this long. Most of the PTCs which started the same time with HKBuzz are gone. I wonder what's keeping them alive?
I'm already a Verified member for many months now. Thou the admin says it will take 10 days to receive my payment, it always arrives just a day after I made the request. Maybe not that "instant", but at least I didn't wait too long.
One thing I don't like was that you can only withdraw a certain amount and not the whole money in your main balance. There's a limit as to how much you can withdraw. I guess that's their trick to stay online, regulate the cash flow. That's fine by me, just as long as they don't scam me.
A few days ago I cashed out. My limit is set to $4 so that's what I received. Payments are sent thru PayPal. Here's a screen shot of the payment: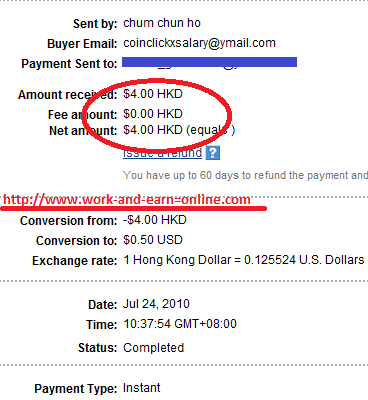 There are plenty of scam sites out there. I'm just glad that HKBuzz proved itself worthy and not just a waste of time.
If you want to join HKBuzz. it's FREE. Just click the banner and register.

---
---