New Personal Blog
After brainstorming and a lot of headaches, I finally came up with a domain name which is perfect for a personal blog I have been longing to create for many weeks now. I wanted it to be near perfect and suited for what I have been cooking up since I announced here that I would be making a new blog.
I was gone for a few days here and wasn't able to post something worth reading (*lol*) because I have been busy looking high and low for a temporary theme as I await for the design I won from the "Make A Wish" contest over a month ago. Downloaded a few themes and decided on the current one installed because it's my fave color! I don't wanna tire myself and have more migraines just for a temporary template. Guess, I just have to be satisfied with it.
So, not to make this post longer than the usual posts I make, Lemme introduce my new found love *wink*.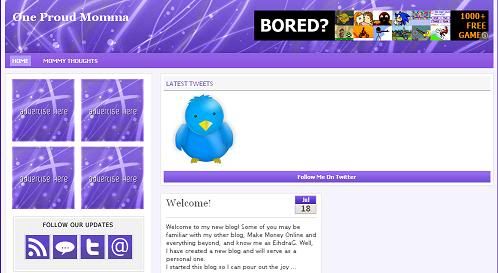 The Title is "One Proud Momma" and if you wanna take a peek, you can see it HERE. The site is still under construction so don't expect too much. I still haven't tweaked and optimized it. I do hope though that the design from Leslie of  Lay It on Me Design would be finished in no time *wink*…
That's it for now. Stay tuned for more updates. Hope to see you on the new blog too 😉
---
---