First Payment from OnBux.com
OnBux.com is another Paid To Click site that I just tried to see if they're indeed paying. Just like any other PTCs, you click and view ads for a few seconds, then gets credit for it. Some sites have lots of ads to click but with OnBux, there are usually 4-5 ads for a Standard member. I don't have plans of upgrading,yet. I have been scammed before and besides, I don't really concentrate much on clicking nowadays. As I have said many times in this blog, I'm only retaining a few PTC sites coz earning with this kind of opportunities are so slow, unless you upgrade and rent tons of refs.. But not to dissuade those who are just starting their journey in making money online, there are sites which are legit and paying. If you want to check them out, visit HERE.
I got my first payment from OnBux.com instantly last August 20th. Here's a screen shot below: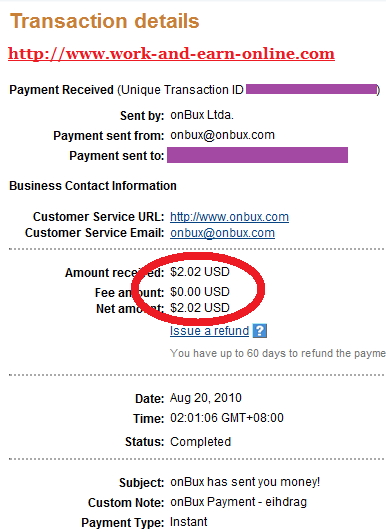 If you're interested to join, membership is FREE. To visit the site, please click the banner below and sign up if you want to earn extra money.
---
---