Help Save These Children
There is a page in Facebook  called the Hydrocephalus Foundation of the Philippines, Inc.. It was created to help children who suffer from Hydrocephalus. Headed by Dr. Manny Cacdac, Mr. Joe Mitra and dedicated volunteers, they aim to "raise awareness about the plight of children with hydrocephalus and provide assistance for their diagnosis and treatment."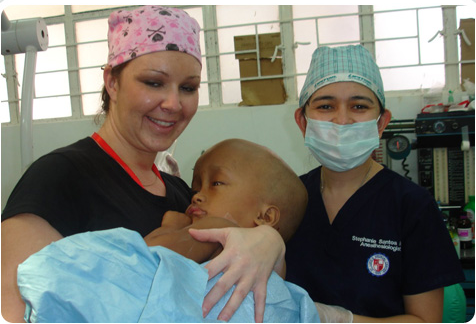 To give you some ideas on what Hydrocephalus is, here's the definition from Wikipedia :
Hydrocephalus, (pronounced /ˌhaɪdrɵˈsɛfələs/), also known as "water on the brain", is a medical condition in which there is an abnormal accumulation of cerebrospinal fluid (CSF) in the ventricles, or cavities, of the brain. This may cause increased intracranial pressure inside the skull and progressive enlargement of the head, convulsion, and mental disability. Hydrocephalus can also cause death. The name derives from the Greek words ὑδρο- (hudro-) "water", and κέφαλος (kephalos) "head".

Symptoms of increased intracranial pressure may include headaches, vomiting, nausea, papilledema, sleepiness, or coma. Elevated intracranial pressure may result in uncal and/or cerebellar tonsill herniation, with resulting life threatening brain stem compression.

The symptoms depend on the cause of the blockage, the person's age, and how much brain tissue has been damaged by the swelling.

In infants with hydrocephalus, CSF fluid builds up in the central nervous system, causing the fontanelle (soft spot) to bulge and the head to be larger than expected. Early symptoms may also include:

Eyes that appear to gaze downward
Irritability
Seizures
Separated sutures
Sleepiness
Vomiting

Symptoms that may occur in older children can include:

Brief, shrill, high-pitched cry
Changes in personality, memory, or the ability to reason or think
Changes in facial appearance and eye spacing
Crossed eyes or uncontrolled eye movements
Difficulty feeding
Excessive sleepiness
Headache
Irritability, poor temper control
Loss of bladder control (urinary incontinence)
Loss of coordination and trouble walking
Muscle spasticity (spasm)
Slow growth (child 0-5 years)
Slow or restricted movement
Vomiting
Here's a brief history about the Hydrocephalus Foundation of the Philippines
Hydrocephalus Foundation of the Philippines, Inc. (HFP) is a non-stock, non-profit organization registered with the Securities and Exchange Commission since May 14, 2010. It was established to address the need in providing support and assistance to patients and families affected by hydrocephalus.

The foundation was conceived because of the need of children afflicted with hydrocephalus not getting diagnosed early and having to wait awhile before surgery to correct the situation is done. Sometime in 2007 after one of our surgical missions, Dr. Cacdac found out that there were more than 20 children waiting to be shunted. This was through KAPWA KO MAHAL KO who helps the indigent patients with their medical care that Dr. Cacdac got involved. It was after a meeting with Harley and Debbie Sy of the SM Foundation that Dr. Cacdac started going back and forth to the Philippines to donate his time, effort and shunts that are donated to him, in order for these children to be operated on before their brain mantles are gone and would not live to be more than 4 or 5 yrs old unless their hydrocephalus are arrested. So far, with the help of a few local neurosurgeons, and KKMK Foundation, they have shunted more than 200 children to date. This event is how Dr. Cacdac spearheaded the formation of the HYDROCEPHALUS FOUNDATION OF THE PHILIPPINES.

In January 2009, after their missions in Palawan and Pasig where Dr Cacdac shunted nine babies, a few friends and Dr. Cacdac met at Mr. Ed Puno's residence. The Hydrocephalus Foundation of the Philippines was conceived. The paperwork finished by May and the papers are filed at SEC. The following are the members of the Board of Trustees: Manuel A Cacdac, Chairman; Eduardo R. Puno, Virgilio M. Raymundo, Juan V. David, Jr. and Bernardo J.B. Mitra, Sr.

The members of the Board and a few benefactors were able to raise one million pesos as seed money required by the SEC in order to form a foundation in the Philippines. The mission is to raise awareness about the plight of indigent children with hydrocephalus and provide financial assistance for the early diagnosis and subsequent surgery to give these children an opportunity to grow and develop as normal human beings. They have estimated that the cost of helping one child will be approximately P50,000 which would include their preop workup, CT scan, Hospital and OR charges.

Dr Cacdac promises that he will continue to find shunt donors as long as his health permits. Right now, shunts are graciously donated by Codman, IntegraLifesciences Inc. and Medtronics Neurological Division. Donations will be needed for perpetuity of the Foundation and hope to ensure its sustainability.
As of August 14,2010, there are now 22 babies who are in the foundation's waiting list. If you want to know what you can do and how you can help these children, please visit the official site of the foundation by clicking here. We need all the help that we can get to save these kids.
These kids need our help. You can give your donations by visiting HYDROCEPHALUS FOUNDATION OF THE PHILIPPINES or you can spread the word by making a post in your blogs about the foundation.
I am proud to be a member of this foundation and will try to help in any which way I can. It's close to my heart because my eldest son also has Hydrocephalus and was shunted when he was only 3 days old. He is celebrating his 11th birthday today and we thank God and our families who helped and supported us financially.
Let's give these kids a chance to live!
---
---