Adgitize August 2010 Payment
So thrilled to receive my very first payment from Adgitize. I have been a member for sometime now but only got involved in earning points just last July.
Here's my payment proof below: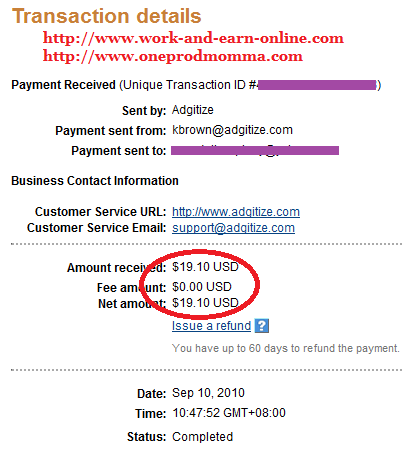 The first time I placed an ad with Adgitize was July this year. I didn't pay anything because I had a coupon from the contest I won back in May. I only earned $5++ in July so I didn't reach the minimum payout of $10 (for PayPal cashouts). Had I known about the Extended Summer Promo for advertisers, I would have clicked to earn the necessary points for the day. A mistake I vowed never to commit again! Well, that's because I didn't browse the whole Adgitize site and didn't even care to read the admin's posts! Well anyway, lessons learned, lol.
Last August, when my "free ad" expired, I placed another ad for my new blog and paid $14. So, now that I got paid $19.10 less the $5 that I earned last July, I got back the $14 that I paid in August. What I'm trying to say here is that, though you pay for the ad, you also get it back, which means, you're advertising for FREE..
If you want to know more about what I'm saying here, read Adgitize Summer Promotion. You'll find out how Adgitize can help you boost your traffic, get noticed and earn while you advertise for FREE.
Do you have a blog? Is your blog earning? You're missing a lot if you still haven't joined the band wagon. Well, why don't you head on to Adgitize and be a publisher. Better yet, try advertising for only $14 a month and experience the big change in your traffic and the big drop in your Alexa rankings.
To become an Adgitize member is FREE. Just click the banners below to visit Adgitize.
Adgitize Special Summer Promotion Helps You Earn More Money!
---
---