2nd Paypal Withdrawal – $450!

This post is kinda late..I know.. As usual, my online projects, both full time and part time took a hold of my sanity for like a month or so, that's why I've been in absentia for awhile. I've forgotten about it and I need to post this because my 3rd and 4th Paypal withdrawals are scheduled to be posted in a few days.
Enough with the intro and on to the payment proof,lol.. See below..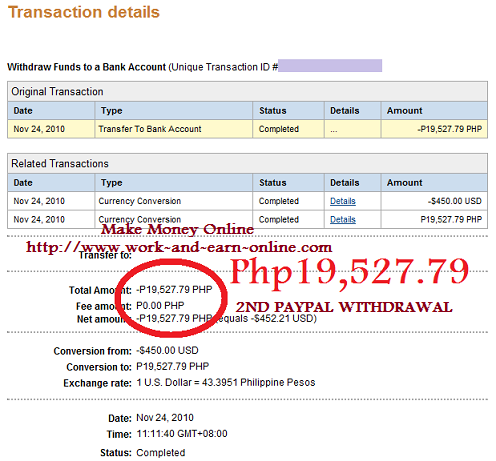 The earnings came from my full time and some of the sideline Virtual Assistant projects and some paid opps. Unlike the first withdrawal post, I don't have any withdrawal slip to show you because I already got my new EON card for my business account and Hubby forgot the ATM receipt, so I hope this proof is enough.
Again this goes to show that you can earn online. So, don't stop looking for online opportunities. It really pays to be patient and persistent and telling yourself not to quit. Took me 2 years to get this gig running and you can do it too.
P.S. Now I have money to buy more domain names and try the free domain hosting. Yipee!

---
---