Payment from BuyBlogReviews.com
My first payment received from BuyBlogReviews.com. This is a paid to blog site, wherein bloggers review the advertiser's site, products or services.
The one thing I don't like here is the BIDDING process. You have to bid for opportunities and when the advertisers like your blogs, then you win the bids and the amounts you stated. But the thing is, there are thousands of bloggers worldwide that bid on the same opportunities and most of the time, it's the lowest bid that wins.
Let's say, you like an opportunity with a $100 offer to review the site. Yes, as of this writing, there really is an opp like that. What do you think other bloggers/members like you will do? Of course, they'll bid on it too!
Then you have to wait.. and wait.. and wait… Lucky you if your bid gets approved then you get to write a review for that site.  You'll get paid 15 days after you submit the url of your post.
BuyBlogReviews.com boasts of hundreds of online opportunities for bloggers like me. You only need to bid on tasks that are relevant to your blogs otherwise the advertisers won't hire you.
The downside is, bidding on a $100 opportunity won't give you a $100 payment. BuyBlogReviews.com will deduct a 30% commission on every task you submit/finish. So, if you won a bid for $3, do the math and see how much you'll get. Payments are sent via PayPal.
Here's a screen shot of my first payment: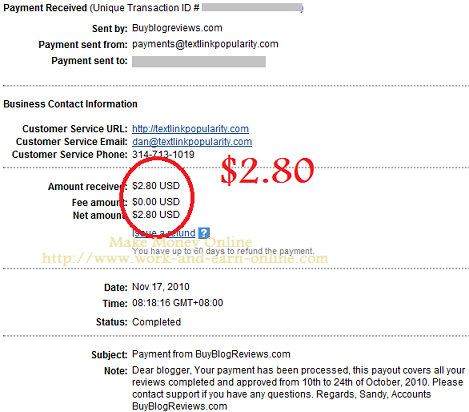 Now, don't get disappointed because of my review here, people. This is just my opinion based on what I have observed/seen/heard. My blogs may be of different niche from yours, as well as my luck is not your luck too.
If you're a blogger who needs extra income ($$), go ahead and visit BuyBlogReviews.com. Who knows, you're one lucky peep!
If you're an advertiser looking for a great review of your sites or products, hundreds of bloggers will be waiting and flood you with bids of all kinds.
Just click the banner below and you're off to BuyBlogReviews site. Well, unless I got you hooked and would like to stay.. You're welcome to browse my whole blog!
---
---