Virtual Assistant Job Payment – $325
I received my 2nd payment from my full time VA job last December 14th. My very first "salary" from the same client was only $300 last November. She increased it by $25 and hopefully there will be another increase in January..
Here's my payment proof: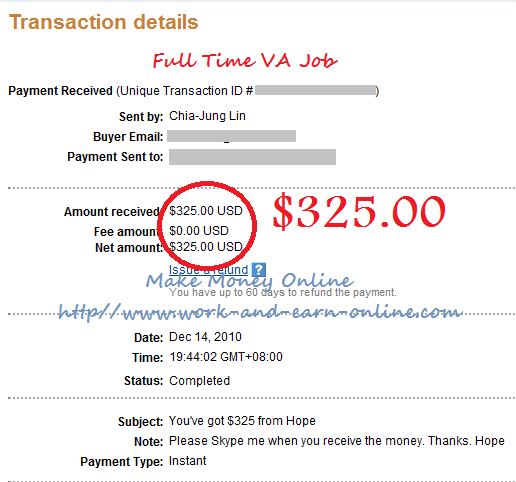 What I did for this period were article spinning and back linked some of my client's sites. I wasn't aware that she is running a lot of websites. Her's wasn't our typical, everyday blogs but websites for pets, marriage, debt, diets and others.
I am so pleased to say that a few weeks ago, some articles I did for her dog website, landed in Google's first page for the intended keywords. I checked it today, it's on the second page. Anyway, that means more money for my client!
Here's a screen shot from Google:
Wish I could do the same for my blogs, but I will.. Now that I know how, I'd definitely spend some time to do SEO for all my blogs. Who wouldn't want to land on Google's first page, anyway?.. It would be great if I could earn as much as my client is earning..
This past few months have been very rewarding, in terms of earning online. I pray that more blessings will come my way this 2011. Thank you, Lord, for all the blessings you have showered me!
---
---