Blog Advertising Payments 01 ($137.20)

I have been blogging for a long time now and I'm glad I found the blogosphere at the right time when things were complicated in my life and I needed to release some stress before I go crazy. Though Blogging started I think way back in the '90s, I only discovered it a few years ago.
It was coz of mixed emotions which prompted me to start and create my very first blog, Free At Last. But after one sad post, it's still there, though it never went live *lol*.. I guess at that time I wasn't ready to let the whole world peek at my own domesticated life.
Now, that my blogs are flourishing into something big (ahem! walang basagan ng trip! lol), I hope that I can finally reach my goal or even just the most important ones, this year. I have so many plans that are slowly coming true but I guess, things like that doesn't happen overnight 🙁
Anyway, one of the things I like about blogging is earning money on the side. Mind you that I didn't actually started blogging to earn some extra dough but since it's legal, I joined the bandwagon. Gosh, let's be practical! I might as well earn a living that's legal, doesn't require me to dress up and most of all, homebased!
Apart from earning dollars as a Virtual Assistant (which has nothing to do with my blogs,lol), I also earn by accepting different kinds of advertisements in all my blogs. Be it paid posting, link or banner advertising, product reviews etc – all these are paid. Don't worry, I have my Disclaimers on certain posts and site wide,lol.
Below are payments I received for the last 3 and half months: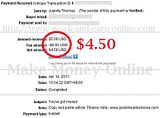 *Please click on thumbnail to enlarge*
Part of the money I earn goes to my eldest son and the rest goes to bills and groceries. Sometimes, when there's something in the house that needs fixing like floor tiles etc, at least I have some money tucked away somewhere *lol* so I could pay the Floor company, ahahhaa..
My earnings are not that big yet or can't be compared to those who are ProBloggers and Internet Marketers, they're what we call – Bigtimers 🙂 But at least I'm getting there.:)

---
---