Virtual Assistant Payments 02 ( $1900+)

I haven't posted any payment proof from what I have done since March 19,2011. The last payment was from my Virtual Assistant Payment 01 which was received last March 18th. Since it's already July and I haven't updated the payment proofs yet, I decided to just give you a screen shot of what I got since the last one until June 2011.
Most of my online friends know I'm working as a Virtual Assistant for some clients. I have a full time work plus some other sideline VA jobs that I've been doing since August 2010. I've posted payment proofs here since I started and below are my latest earnings.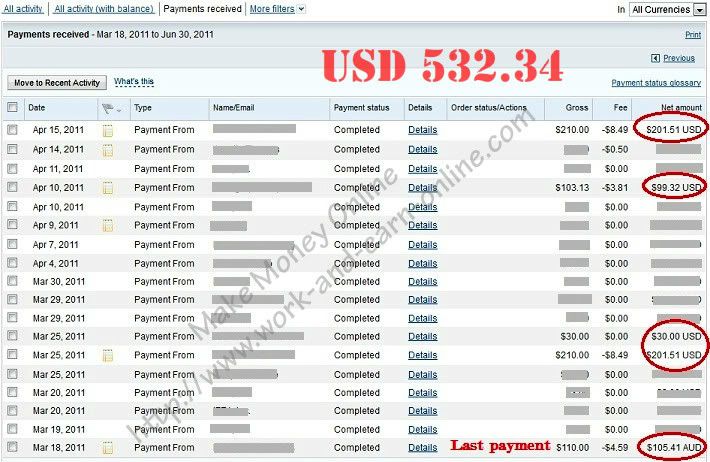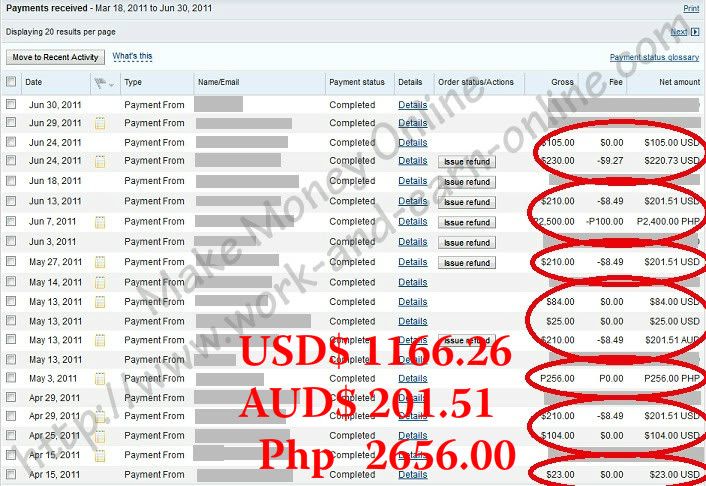 I always tell myself even since my younger days that if I want to succeed in life, I'd have to go through a process called "learning" and "implementing". 3 years ago I was just clicking advertisements from $0.0001 to $0.01 and it was really hard to earn a single buck a day at that time. I wasn't contented of course, so I browsed the net for other online opportunities that could rake me thousands of $$ every month. I searched high and low but to no avail. I know some internet and affiliate marketers who are still earning what I have always aspired – millions of $$. But they are veterans in this field and mind you, they didn't start rich either.
As I traverse this not so lonely world of Virtual Assistance, I see sparkling stars and of course $$ along the road. I would just have to work even harder to achieve and maybe surpass my mentors (they don't even know they are mentoring me, silently,lol) so that I can finally be free of all financial worries. Of course that won't be possible if I keep earning this way, so I gotta think of some other ways to make it into a reality full of blessings but not to make me greedy and arrogant.
It is possible to earn a living online and as I always say – "only if you know where to look". Try to befriend Mr. G and it will tell you whatever it is you wanna know.
Virtual Assistance is a booming industry for us Filipinos and worldwide. If we can scour the net for more advanced teachings related to becoming an effective Virtual Assistant, we may even be given the record for Outstanding Virtual Assistants in whole wide world and world wide web. Note that this business has been going on since early 1990s and now fast becoming popular amongst Pinoys who are seeking legit online jobs.
Stay at home moms can now gain back their lost self-confidence and use their acquired education to pursue a job that would not entail too much stress like that of an office work. Heck, I can even multi-task doing online work, cook and tend to the children. It is not like working 8 to 5 but better, because most employers does not require you to be at their beck and call all day. Mine only requires complete submission of daily tasks so if I am done earlier than usual, I still can do other sideline tasks for other clients. But having 2 or 3 or even more employers/clients at the same time isn't really the "cool thing" to do. Your main tasks/projects may suffer for lack of concentration or even time. You have to be on top of every little thing and must be great at multi-tasking. otherwise, you will end up with no clients thus no earnings.
I am not saying that I'm a superwoman. But I get things done, period. The only downside is, my personal blogs suffer because I can't update all 10 as much as I want to. But still thanking Mr. G for bestowing PageRank+2 on each of them except the new ones, of course.
Anyway, if you are always online seeking for a much stable job, I'd suggest you try and research the keyword "Virtual Assistant". There will be thousands of search returns so it's only right to start from the first page. Next is, be a voracious reader and consume as much information as possible. This isn't the regular school reading session and your future depends on how you can digest all things you have read. Take it slowly, or however you want to do it. it's you call anyway. Just that, whatever you read, learn to dissect, scrutinize and analyze, because that is one skill you will need when you apply as a Virtual Assistant.
Goodluck in reading and please be a dear and tell me what you think by commenting below. Reactions are okay just as long as you are not making yourself stupid by posting nonsense, coz it won't get approved anyway 🙂

---
---