SOPA Protest – Black Wednesday On the World Wide Web
It's a Black Wednesday today as more and more websites and blogs "go dark", to stop SOPA (Stop Online Piracy Act) and PIPA (Protect IP Act). Why? Because it would kill freedom of speech, for one!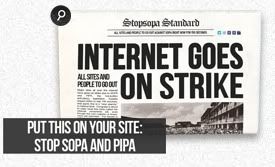 Some people might say – "why should we join the protest, we are not Americans!" or "We're scared because we'd lose our opportunities". Oh well, if you haven't read/heard yet, this will be a huge domino effect that would likely and slowly kill us bloggers.
To give you some short details on why this is happening today, January 18 and will continue until January 24, 2012, kindly watch this:

PROTECT IP / SOPA Breaks The Internet from Fight for the Future on Vimeo.
Video above is best viewed on Firefox 🙂
Here are some other sites worthy to read and currently "gone black". Some of their landing pages are either redirected or have messages about their support against SOPA.
http://wordpress.org/
http://www.zachstronaut.com/lab/text-shadow-box/stop-sopa.html
http://americancensorship.org/
If you feel that you will not be affected at all by this threat, then move on and live your internet life as much as you can. This may be happening in the U.S. but be sure that it will eventually affect us all who have businesses online, be it small or big companies.
I am scared too, that this post will affect my online existence, but either way, when the bill is finally passed, it would affect us all. 🙁
Care to share your views?
---
---