Tips for Comparing Credit Cards

Credit cards are one of those things in life that often seem unavoidable. While budgeting plans can often help you to prepare for unforseen expenses, the costs of everyday living can suddenly become too much to manage, which is when people turn to credit cards. Now I'm not saying that credit cards are all bad, as they can provide emergency monetary assistance when needed, but it is vitally important to understand your limits and to know what is expected from you. Unmanaged credit card repayments can lead to accumulation of debt, with further financial assistance required. If you're struggling with debt and contemplating applying for a credit card, or are simply in the market for a better deal, be sure to follow these simple comparison steps.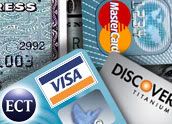 Know your Interest Rate
When comparing credit cards, you need to both know and understand your interest rate. The most common types of interest rates, offered by financial institutions, are fixed interest rates, variable interest rates and introductory interest rates; particularly found when applying for a credit card. To better understand your fees and repayment structure, you firstly need to become knowledgeable about the advantages and disadvantages of each type of interest rate.
To put it simply, fixed interest rates basically mean that you are locked into a certain rate of interest for the duration of your agreement or contract. Fixed interest rates provide the advantage of having no hidden surprises, however if the market should change, lowering interest rates, you will still be required to repay interest at the agreed upon rate.
Variable interest rates, as the name suggests, offer customers a variable rate of interest. For consumers, this means that your interest rate may fluctuate at any given time, due to changes from your financial institute or any variations within the market. Variable interest rates provide the benefit of having the lowest interest rate possible, throughout certain periods; however, you also face the risk of having the highest interest rate during other times.
Introductory interest rates are commonly offered to people who are transferring existing credit card balances. If you have devised a budgeting plan that enables you to pay off your credit card balance, within the initial grace period of the introductory interest rate, then this is a great option for you. If you know, however, that you will not be able to pay of your credit card balance, you should be aware that the regular interest rate will often be much higher than that of regular cards.
Beware of Hidden Fees
Understanding your interest rate is the first step in ensuring that you're getting the best deal possible. Along with your interest rate, you should also be aware of any other fees that may be applicable to your new credit card. Many financial institutions have monthly account keeping fees, annual fees and, of course, late payment fees. Always read the fine print and don't be caught off guard by any hidden costs.
Failure to make compulsory repayments can lead to a bad credit history. If you've found yourself in a situation of unmanageable debt, bad credit debt consolidation can often provide the necessary assistance. While some avenues of debt solutions are unlikely to be available for people with a bad credit history, debt consolidation can help you regain control of your finances.

---
---