5 Ways to Outshine your Competitors
Competition is a reality in today's tough economic climate. No matter what type of business you are in you are sure to be facing some hefty competition. How do you stand out in the pack? How do you get noticed in an overcrowded marketplace? How do you outshine your competitors?
Make a Brilliant First Impression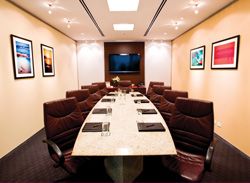 If you manage to snag a meeting with a potential client, make it count. You may only get one go at impressing them. Treat a potential new client with the care and respect required to win them over. First impressions count for a lot. Show them you take their business seriously. Dress for the occasion, plan your presentation, listen to them and hear what their problems are and what issues they are facing. Don't try to be impressive by being clever. Be impressive by really listening to your potential client, by being empathetic; make them the focus of your meeting, not your own business know-how. Meet them at a nice venue, a quiet coffee shop or restaurant or if it's a 'big deal' meeting, consider utilising the services of someone like Servcorp Virtual Office, who provide beautifully appointed meeting rooms. Make it count!
Focus on the Customer
In every aspect of your business be sure to keep the focus on your customer. Your customer is why you exist, why you are in business in the first place. When you are devising a marketing strategy make sure it is focused on what you can do for your customers, how you can meet their needs or some problem that they have. It should always be about the customer. Rather than have your mission statement and vision and goals on your office walls, place statements of satisfaction from happy customers, write up commitments that your business has to guaranteeing the complete satisfaction of your clients; and create posters that talk about how you can meet your clients' needs. So many businesses are egocentric, believing they have to show the client how good they are to get their business. This is the wrong approach. How good you are will come out as a natural consequence of your actions towards pleasing your client and providing them with the best solutions and the best service you can.
It's the Little Things
It is very often the little things that make a difference, the special little touches along the way that create a memorable experience for your customers. What little things can you do along the sales process to make your customer feel special and important?
An example: When visiting Thailand there are hundreds of venues offering massage. Basically there offerings are much the same. You can get a traditional Thai massage, a foot massage or an oil massage. All of these services begin with having your feet washed – which in itself is a pleasurable and memorable experience. But one venue added the something extra, it was a little thing, but it made their service stand out. They simply placed slices of fresh lime and flower petals in the foot bath. This practice would only cost them a few cents, but it differentiated them. Think about the small ways you can stand out.
---
---